Hymnals to Angel Centerpieces
Angels made from Hymnals
Supplies needed (all supplies can be purchased in a craft store) I purchased all from Bargain Bill's Craft Store in Rice Lake.
1 hymnal (black, red or green)
1 crochet doily (white or ecru) (size 8 inch round)
1 wood head -- size 2'' (flat on bottom)
Bag of Spanish moss (6 or 9 oz. bag)
Pearl string beads -small(you buy by the inch)
Spools of 1/4 inch ribbon in assorted colors
Package of 1" rose buds (cloth not plastic) in assorted colors to match ribbon
Hot glue gun (must be the hot)
Glue for gun
Before you begin - be sure book is in good order. Glue spine if not connected to book back with white school glue or Elmer's glue. Hold in place with rubber bands until dry. Musty odor can be removed by placing books in a sealed bag along with potpourri.
Fold (# 50 PAGES) front and (#50 PAGES) back --- by taking the bottom right hand corner and folding in half with the right hand corner touching the spine.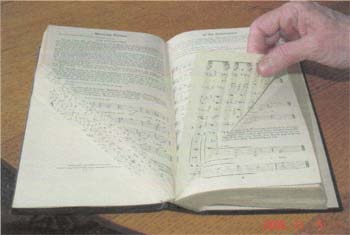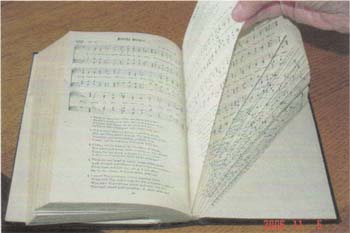 The back pages will be folded with the book open, so folds go towards back. The completes the Angel wings.
Fold remaining pages of the hymnal by taking by taking the upper right hand corner and folding in half with the upper right hand corner touching the center of the spine.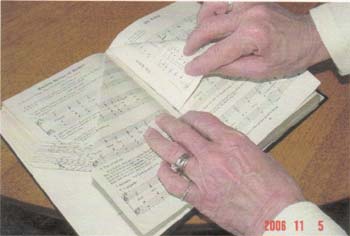 The makes the skirt of the Angel.
Folding must be accurate - as it shows on the front of the completed Angel and the book will not stand alone if not folded accurately.
Cut the doily in half. (One doily makes 2 angels) Lay the cut line on the top edge of the book cover and hot glue. ----- Keep it straight.
Next place a wood head (the one that is flat on the bottom) Glue in place.
Put hair on Angel by using Spanish moss. Give your Angel a nice head of hair.
I recommend that you DO NOT make a face on the head.
Next make a halo of pearl string beads -- glue on top of the head.
Make a nice bow using 1/4 inch ribbon (make at least 3 loops each way) -- Tie with a small piece of ribbon. Cut 1 more piece of ribbon about 12 inches long and fold in half and place at neck of the angel, glue in place. Next glue the bow in place. Last -- glue one/two very small rose buds or small cloth flowers at the neck.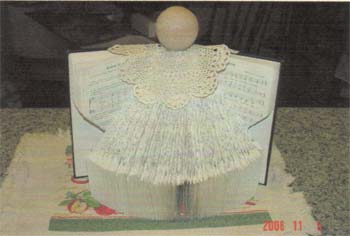 Your Angel is complete. What a way to use old hymnals! We sold the large hymnals for $15.00 and small hymnals (words only) for $10.00. This was about 6 years ago you could probably get more now. If you decide to use a small hymnal, scale down the doily and head size. The Angel is very nice remembrance of your church.
Directions submitted by
Lois Jensen
jensandlo@centurytel.net
Long Lake Lutheran Church
Sarona, WI