---
How do you measure a congregation? What is the standard of vitality and utility?

Shelves of words have been written about this. And likely most of them somehow reference the Book of Acts. The experiential summary for me appears even before the end of Chapter 2. The depiction there serves as a picture window to the being and doing of that Spirit-filled community. Is it not also a model for all time and even place? (I'm thinking of a pattern which transcends consideration of culture, style, taste, etc.)

Verse 42 uses four phrases to describe that church. Each is echoed throughout the New Testament. And to each the community is called "devoted." Can we regard these as any less than essential components? I would identify them with four words:

Worship -"the prayers"

Instruction -"the Apostles' teaching"

Fellowship -"and fellowship"

Evangelism -"the breaking of bread"
The use of this language again in verse 46 shows it to be more than a sanctuary rite related only to formal worship. The text clearly emphasizes the sharing of this bread where people live. Verses 42 and 46 frame a larger sharing still. Here is a reaching out with "show and tell" fervor. It is acting out the Gospel as well as telling it. It all culminates in the daily addition to their numbers (verse 47). This is evangelism in the grandest sense!
The sequencing of these phrases surely doesn't seem to be the point of verse 42. I position them this way to help remember all four components. The W -I - F - E acrostic reminds me of the composite characteristics of the Bride of Christ.
But this is more than a handy acronym, and the formula is more than an academic observation. If you conceive this in graphic terms (see below) you almost automatically see its dynamic implications. Here I'll name just two.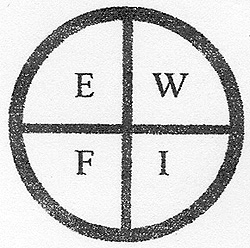 1. All four elements are necessary to qualify the corporate entity as "Christian." Consider.
I+F+E without W = a service club
W+F+E without I = a band of fanatics
W+I+E without F = an eventual drudge
W+I+F without E = a Sanhedrin
All four are necessary to make the essential Christian whole.
2. All four elements are necessary in balance. The point above considers the result if one element is missing. Here one is prompted to consider the result if one element is weak. Think now not so much of a pie as of a wheel.
An automobile can move maybe 40 mph without balanced tires. But what happens when it is being called on to really roll? Then careful attention needs to be paid to balance. What part of the whole requires tweaking? Where should the weight go? How do we restore high-speed capability?
Doesn't the same apply to a congregation?
How do you measure a congregation? Behold the Bride. How do you determine what the Spirit is anxious to restore to fullness in her? Consider her WIFEly character.
A not-so-accidental corollary is revealed in the substitution of 'life" for "congregation," as in "How do you measure a life?" Again, think of Acts 2:42 and our wheel. What's missing or weak in you?
This goes beyond dynamic. This gets downright personal! As well it should.
Pastor Gene Peisker currently serves a WIFEly ""congregation" at Sheridan Correctional Facility, a medium security prison near Ottawa, IL.